Shopping Cart
Your shopping cart is empty!
About Dr. Hank Liers
About Us | About Dr. Randy Aronson | A Letter from Dr. Randy Aronson | A Letter to Veterinary Doctors | Our Approach to Formulation
Hank Liers, PhD is a nuclear physicist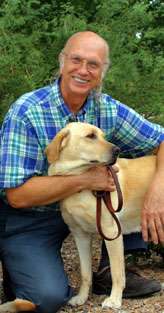 Hank Liers, PhD received his doctoral degree in Nuclear Physics from the University of Minnesota. His career has included work in the fields of nuclear research, solar energy, and computer simulation.
In 1984, Dr. Liers' wife Joanne became seriously ill — environmentally intolerant to many common substances and chemicals. At that time, no solutions or cures were available to ease her condition. Dr. Liers refocused his life on health and healing, becoming her "doctor" in the process. Since that time he has studied with some of the foremost physicians and scientists in the rapidly growing field of alternative medicine and health.
In the past two decades, Dr. Liers has designed and managed over 200 nutritional supplement products. His work in nutritional health includes research, publishing articles, and selecting, testing, and specifying the ingredients used in his products.
In 1988, he started Health Products Distributors, Inc. (HPDI), supplying high-quality supplements to nutritionally-oriented physicians, chiropractors, and naturopaths, and directly to individuals. In addition to providing information about HPDI's products, Integrated Health is a frequently visited resource for people interested in healthy living. Dr. Liers today educates health care professionals and continues to help a growing number of people experience vigor, fitness, and well-being.
P.A.W.S. Supplements (formerly 2DOCS) continues Dr. Liers' mission, making high-quality human-grade nutritional supplements available for animals.

PAWS on Linked In

Woofs without Roofs

PAWS on Facebook

PAWS on
Twitter

Radio Pet Vet on Facebook

Radio Pet Vet on Twitter